With only ONE operable prototype of it's new sedan, 12 dealerships and NO final design or manufacturing process, Tesla Motors still has high hopes as it offers public shares for the first time tomorrow.
more from CNNMoney.com staff writer David Goldman:
Tesla Motors will offer up its shares to the public for the first time on Tuesday, testing investors' faith in a company that has proven it can make functional and stunning electric cars but has never had a profitable quarter.
PayPal founder Elon Musk's seven-year old auto company lost $55.7 million last year and $260.7 million since its inception. The company has performed so poorly from a financial standpoint that Musk recently said he lost his entire personal fortune on Tesla.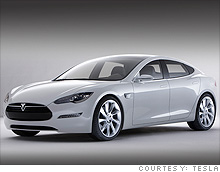 But investors are giddy about the Palo Alto, Calif.-based automaker's initial public offering, prompting Tesla on Monday to increase the number of shares it plans to offer by nearly a fifth to 13.3 million.
Tesla, which plans to trade on Nasdaq under the symbol "TSLA," expects shares to be priced in a range of $14 to $16. That would allow Tesla to raise more than $185 million in the IPO and give it a market value of nearly $1.5 billion.
Much of the excitement is pegged to Tesla's launch of the Model S, an electric sedan that the company says will sell for a minimum of $50,000 in 2012. That's much more reasonable and practical for most consumers than the vehicle that Tesla currently sells, the $100,000 Roadster sports car.
The electric automaker plans to acquire a plant where it will produce 20,000 new Model S sedans each year starting in 2012. That's a significant increase from the 1,063 Roadsters it has sold — total. But until 2012, Tesla said it will continue to pile up hefty losses.