The Environmental Defense Fund recently posted a thoughtful analysis of water conservation efforts in the West written by Jennifer Pitt, Colorado River project director.  She posted this in response to an extremely popular environmental article published by The New York Times called "Colorado River Drought Forces a Painful Reckoning for States." Some highlights from Pitt's EDF article include:
Drought, whether or not influenced by climate change, is dealing a tough hand to this arid-leaning region of North America…
The mighty Colorado is not simply infrastructure for water delivery. It is the lifeline of the American West. It is a river of legends, with awe-inspiring canyons that have for centuries seduced people to explore their depths..
The Great Recession temporarily slowed the region's meteoric rise in population, but its cities are growing again.  In some cities where people bathe, drink, water lawns, and wash cars with Colorado River water, historic tightening of supplies has successfully and dramatically reduced per capita use, extending supplies. Many cities use less water now than they did a decade ago, despite population growth…
This should be a call to action for the rest of the Basin: the time to increase incentives that promote water saving is now – before regulations and requirements become necessities…
BOTH ARTICLES BELOW:
Environmental Defense Fund
Jennifer Pitt / Published January 9, 2014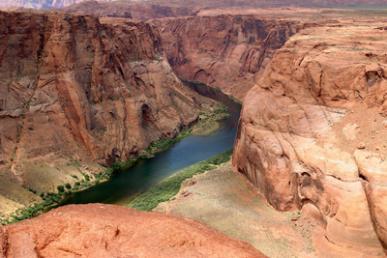 This post first appeared on National Geographic's Water Currents blog.
When the New York Times features an alarming story about water in the West, people pay attention. This week's story, "Colorado River Drought Forces a Painful Reckoning for States" by Michael Wines, trended as the Times' most emailed piece for much of Monday. The article helped to elevate the reach and understanding of Western water issues, but for those of us in Colorado and other basin states, this reality is one we must face every day.   Continue reading…
_________________________________________________________________________________________________________________
The New York Times
LAKE MEAD, Nev. — The sinuous Colorado River and its slew of man-made reservoirs from the Rockies to southern Arizona are being sapped by 14 years of drought nearly unrivaled in 1,250 years.
The once broad and blue river has in many places dwindled to a murky brown trickle. Reservoirs have shrunk to less than half their capacities, the canyon walls around them ringed with white mineral deposits where water once lapped. Seeking to stretch their allotments of the river, regional water agencies are recycling sewage effluent, offering rebates to tear up grass lawns and subsidizing less thirsty appliances from dishwashers to shower heads.
Read full article here.